Your smart watch is lying to you.
Garmins, Apple watches, Fitbits, I-Phones, Electronic scales…all of them are culprits. My watch told me the other day that my performance level was at a negative 4. This was at the start of a 15-mile training run we CRUSHED. While I know it's ok to start a run tired, it was hard to shake the feeling that maybe I wasn't running at my best, or maybe I was doing something wrong in my training or lifestyle. I was being gaslit by my watch! It's easy to get hung up on stats and beat ourselves up when they aren't what we want or expect them to be. Trust yourself and your training. You know the variables in your life that your devices don't take into consideration. Remember that the tiny computer on your wrist, while an excellent training tool, is not nearly as smart as the person wearing it.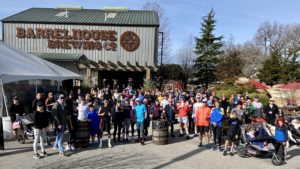 We had an incredible turnout at our first Pub Run of the year at Barrelhouse Brewery in Paso Robles on February 4th. Sunshine and blue skies made for some great running weather and was perfect for hanging out in the beer garden afterwards. Barrelhouse had fun too and wants us to do it again. (SAVE THE DATE FOR AUGUST 19th!)
Running Warehouse is kicking off their Pub Run Series this month in Avila Beach on March 28th at 5pm with shoe demos by HOKA. They'll meet up at Mulligan's Bar & Grill and warm up with Movement for Life Physical Therapy. (The first 100 people get a free drink on Running Warehouse!) They came north with Brooks Shoes in January and joined us for our Hot Chocolate 5k at 15C in Templeton. It was a frosty 28 degrees at the start but the company was good and the hot chocolate delicious!
TRC will be hosting Pub Runs all throughout North SLO County this year. Thankfully the time is changing soon, and we'll have more daylight to run them in! Wild Fields Brewhouse in Atascadero has always been a favorite as well as Cal Coast Brewery in Paso Robles.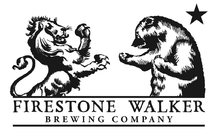 This month, we're going to get loopy at Firestone Brewery. We'll start and finish this (nearly) half mile loop course at the Taproom restaurant and see how many we can laps we can squeeze in! The Taproom will be open for food, drinks, and has the perfect patio for spectating and cheering on runners. The runner that makes the most laps in 30 minutes we'll buy a beer (or a non-alcoholic beverage of your choice if you're under 21!) Keep an eye out for more details on this FREE event!
Speaking of free, we can't do what we do without help from our sponsors. As a non-profit community organization, we want to keep encouraging local runners of all ages to come out and give the sport at try. We are affiliated with the RRCA and USATF and would like to continue to keep our membership free for all to join. A $200 sponsorship will not only help support our community and club, but you'll get your logo listed on the backs of our 2023 shirts, your logo listed on the front page of our website, and several shoutouts on social media and in our newsletters. Please contact me at rosaliesmith@templetonrunclub.com if you'd like to join our team!
As with last month and months going forward, we have another contribution by one of our club members, Jen Seay, with her thoughts on running and why she does it. Please reach out if you would like to contribute as well!
Rosalie Smith
rosaliesmith@templetonrunclub.com
Templeton Run Club
PO Box 522
Templeton, CA. 93465
Why I Run
by Jen Seay

Here's a little bit about my running life: I became a distance runner on a warm February day during my freshman year of high school. I arrived at track and field tryouts convinced I was going to be a sprinter. I remember the coach looking at me kindly and telling me to practice with the sprinters but to report back to him at the end of the week. When I came back to him a few days later he looked at me with a smile and said that he knew where I belonged….with the distance runners. From that day on, I have not looked back.
I have continued to run for the 20+ years since I graduated high school but my running life hasn't felt the same without a team. Through college and graduate school running became very sporadic with no structure or goal. I would sign up for a race from time to time which gave me a target, but I would slide back into the same unstructured schedule. That all changed when I joined the Templeton Run Club in the spring of 2022. I happened upon the club by accident…I saw them meeting up at the park on a Saturday morning. After some proper social media stalking, I signed up to join my first Saturday morning long run. I immediately felt like a member of the crew and have been welcomed with open arms. The club has been incredible for getting me back on track and provided me the structure I desperately needed. They motivate me, they encourage me and they support me. The TRC has been a welcome part of my life and the other members have quickly become friends and it has been my pleasure spending the last year getting to know this group.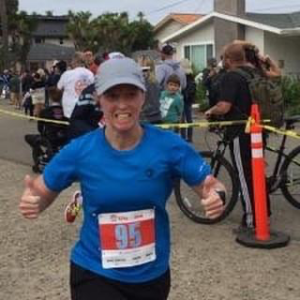 I have been thinking about what running means to me and why I do it. Running is more than just fitness or exercise. It is a way to gain focus or gain perspective on the world around us. My general attitude is better, I am more productive in my personal and work life and I am happier.
Here are some of the things that I think about while on a run:
Planning my day. Some of my best planning occurs when my mind is clear during a run.

The discomfort. On runs of all lengths there will be a moment when your legs or arms will be tired. Pushing through the discomfort can be liberating and powerful.

Sometimes I actually think about nothing. This is a great kind of peace, just listening to each step and each breath can be relaxing and soothing.
My journey to this point has been a great one and I can't wait to see where running takes me. There have been many highs including completing a marathon and competing for league championships with my team. There have also been lows, such as recovering from a tough injury. I know that I have a great group of runners to help me along the way and I look forward to the future.