A Head
We had over 20 runners participate in the 25th annual City to the Sea Half Marathon and 5k and it was pretty awesome to be included in such a great group. I am so proud of the support we had for each other as well as our own individual accomplishments.
I am grateful for the friends we've made and the people we've met through starting this club two years ago. We will celebrate our birthday and our 3rd Annual Turkey Trot Thanksgiving Morning at 7:30am from Templeton Park. We will start off with a one mile warm up walk, followed by a 5k/10k fun run down Moss Lane. This year, we would like to collect donations to help support ECHO Homeless Shelter and help give back to our community. ECHO is hosting their own Turkey Trot at Atascadero Lake Park at 8:30am and will match donations! We're hoping to raise $200 to send them!!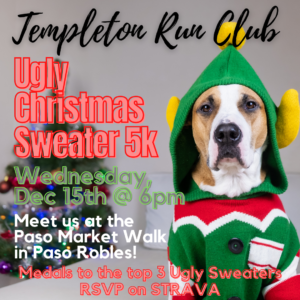 We are blessed with local traditions like the Victorian Vine Street Showcase in Paso Robles. On December 15th we will host an Ugly Sweater 5k fun run , starting at the Paso Market Walk at 6pm. We'll run down Spring Street and take a running tour down Vine to check out all the Christmas lights and decorations. Deck yourself out with all the Christmas lights you can handle! Check Strava for the route and to RSVP, Medals will be awarded to the top 3 Ugly Christmas Sweaters!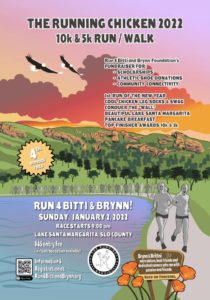 I am thankful for the New Year and an opportunity to make 2022 the best one yet! To kick it off, we'll be running the 2022 Running Chicken 5k/10k Run at Santa Margarita Lake on January 2nd to support the Run 4 Bitti and Brynn Foundation. Participating in this run will help provide scholarships to graduating high school athletes attending Central Coast Schools, provide athletic shoes to high school athletes in need and support youth and high school sports programs.
I am grateful to live on the Central Coast, where we can run in the Los Padres Forest the same day we run on the beach. Castle to Coast is an 8.2 mile run along Highway 1 from San Simeon to Shamel Park in Cambria. This year's race will be held on Saturday, January 15th at 8am. Not only is this a spectacular run along the coast, it also fundraises for the Cuesta College Track and Field Program.
We are blessed with the people that dedicate their time and energy into making TRC a club we can all be proud of. Thank you to our TRC Board, Nicole Taylor (Vice President) Tony Lopez (Treasurer) and Stéphanie Marenne (Secretary) as well as ALL of our members that are there to encourage and cheer each other on!
We will be having our end of the year meeting on December 1st at 6pm where we will be discussing goals for 2022. Feel free to join us on Zoom! Use Meeting ID: 884 7255 0607 with Passcode: TRC1201. Have a wonderful Thanksgiving!!
Happy Running!
Rosalie Smith
rosaliesmith@templetonrunclub.com
Templeton Run Club
PO Box 522
Templeton, Ca. 93465
in